The Importance of Agribusiness in the United States
Almost 18% of the country's economy and 30% of American jobs are directly or indirectly tied to food and agriculture, making the agribusiness industry a cornerstone of the American economy.[1] Although the primary output of the industry is livestock and crops, there is so much more that the industry offers including the support of livelihood through food, the production of raw materials for food and other products, and sustaining society's need of nutritional support. States employ several programs and incentives to support the need for food, farmers, and farming equipment. The State Business Incentive Database, published by the Council for Community and Economic Research (C2ER), tracks incentive programs, including those that focus on the development of a sustainable agriculture workforce, industry innovations, and financial resources to ease the cost of operating farms.
Figure 1 shows where agriculture incentives are most and least concentrated. States that are more darkly shaded have a greater number of programs and states that are more lightly shaded have fewer programs. Regions with the highest concentration of agriculture programs are in the Midwest, specifically North Dakota, Minnesota, and Montana. In fact, Minnesota's agriculture programs make up 43% of their total incentives.
Figure 1
There are over 375 active state incentives for agriculture across the United States. At present the five states that have the highest number of programs are Maryland, North Dakota, Minnesota, Kentucky, and Montana. These states alone represent nearly 30% of the total agribusiness programs available. Although some states have fewer programs than others, the prevalence of agriculture incentives across the United States demonstrates the consistent interest that states have to the industry.
Not only does C2ER track the number of programs related to agriculture, but it also tracks the program type, like tax credits or loans. While incentive programs are more commonly delivered through tax credits, most agribusiness incentives are distributed through loans and grants. States employ a variety of tactics to distribute funds to agricultural businesses. For example, in Maine the Agricultural Marketing Loan Fund provides financing for farmers, food processors, and aquaculture operators to enhance equipment and facilities to improve production, marketability, and manufacturing. Oklahoma supports "Beginning Farmer(s)" or individuals or organizations that have not been involved in farming for more than 10 years. This grant fund distributes up to $100,000 per grant to applicants for a period of two years. Figure 2 demonstrates that loan/loan participation, grants, and tax credits are overwhelmingly utilized for agricultural incentives, giving businesses options in terms of the amount of risk they are willing to take.
Figure 2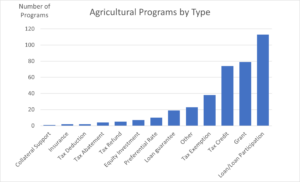 Many states are utilizing grant funding to support the future workforce for farming. These funds allow those working in agriculture to provide training or apprenticeship programs to help develop the skills of current employees and attract new ones. In North Dakota, Operation Intern focuses on creating new agribusiness apprenticeship opportunities for upper-level high school students, college students, and students who are enrolled in an apprenticeship program. Similarly, in California the Employment Training Fund is a grant that provides funding for training of current employees and those who are unemployed at the start of the program to receive training to become competitive hires in the future.
Figure 3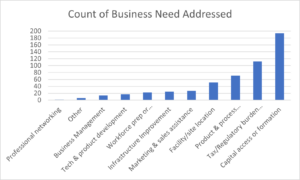 States incentivize business activities for industries for targeted needs. Figure 3 above shows that the primary business in America for agriculture incentives is capital access or formation. This allows farmers or those in the agriculture industry to expand their access to physical goods or assets that will improve their processes and therefore their business. For instance, in South Dakota the Beginning Farmer Bond Program distributes funds to aid Beginning Farmers to secure agricultural property at a lower interest rate. Access to funding is an integral part of any business as it supports the creation and growth of businesses. Given the overwhelming number of programs that support businesses in the agricultural industry it is apparent that states are making a great effort to support the financial needs of their respective agribusinesses.
Data shows that the approach for implementing agricultural incentives can largely differ depending on what needs the industry has in each state. Agribusiness incentives can be utilized in many ways to help inform business, workforce, and economic development decisions. To learn more about agribusiness incentives in your state visit C2ER's State Business Incentives Database.
[1] Jacqui Fatka, "Agriculture Truly Feeds the U.S. Economy," Farm Progress, January 11, 2023, https://www.farmprogress.com/business/agriculture-truly-feeds-the-u-s-economy.