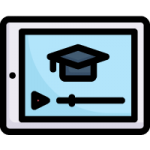 This video module demonstrates how value-chain analysis can help researchers better contextualize–and understand the relationships between–firms and industries within their region.
Professor Mark White first offers a definition of value chain analysis, then shows how to identify core and linked industries in a region.
This analysis can be done by looking at the absolute size or relative concentration of each industry as measured by location quotient.
Note that past and future growth trends are also important to understand, particularly when compared to the state's or nation's growth trends.
The next unit will demonstrate how this information can be used to identify potential industry targets.