Foundations of Economic Development Research: Introduction to Regional Analysis Methods
Get Started
This course is currently closed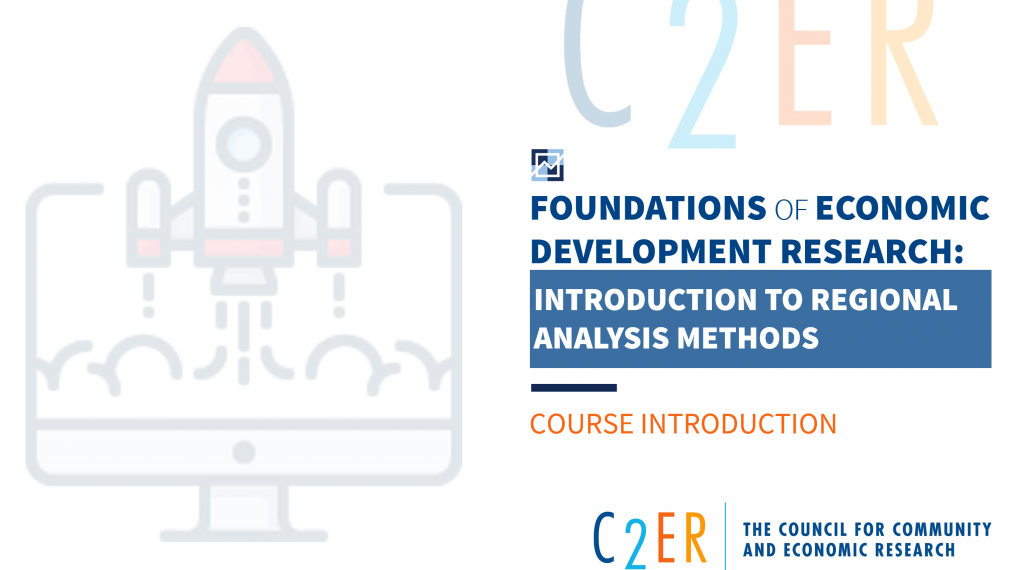 This video-based course, the second of the Foundations of Economic Development Research eLearning program, provides novice community and economic development researchers with an introduction to key data sources, tools, and research methods used to support state and regional economic development strategies.
Prerequisite:
Knowledge: If you have not taken Part 1 of this program, we recommend that course as an introduction to the data sources that are essential to economic development research. 

Skills: Some experience with Excel formulas and functions is strongly recommended

.

 
Purpose: The purpose of this course is to help economic development researchers use their data knowledge and analytic skills to identify economic opportunities in their region and guide decision-making in their organization.
Format: Course topics are presented as a series of expert-led videos, each approximately five minutes in length–followed by various types of practice/application modules.  References, "cheat sheets," and recommendations for further study are also provided throughout the course.
Course Context:
Part 1 of this training program provided the following:
In-depth guidance to publicly available data sources, such as those provided by the U.S. Census Bureau, the Bureau of Labor Statistics, and the Bureau of Economic Analysis, among others.
An overview of key proprietary data sources that belong in every economic development researcher's toolset.
Examples and exercises to build familiarity with various data sources.
Instruction in grading the quality and "fit" of potential data sources, to address the specific questions posed by an organization (or its clients and customers).
Course Objectives:
In this course, Part 2 of Foundations of Economic Development Research, we introduce you to the important theories, concepts, and analytic techniques that underpin today's economic development research field. 
This methods-focused course will show you how to analyze your region's critical economic foundations, through the following approaches and techniques:
Using economic base theory to develop an economic profile of your region.

Identifying your region's unique strengths and opportunities through such techniques as Location Quotient Analysis, Trend Analysis, and

Shift-Share A

nalysis.

Assessing regional economic specialization and exploring its implications.

Measuring economic & fiscal impacts.

Positioning your region to attract, expand, and retain employers/businesses:

C

onducting competitive market intelligence research.

Determining

what factors drive business location decisions.

Conducting

 l

abor market analysis.

Measuring the scope and scale of

your

region's industry clusters–and mapping their composition and inter-relationships.
Course materials zip file to go here.
Course Introduction: Overview, Format, and Objectives
Laying a Foundation for Economic Modeling
Methods for Researching the Competitive Strengths of a Region
Workforce and Growth: Using Data to Tell Your Region's Labor Market Story
Mapping Industry Clusters, Analyzing Interdependencies, and Identifying Targets
Tools for Evaluating and Communicating Economic and Fiscal Impacts